Some of the best restaurants in Duluth, GA
While in Duluth, Georgia, here are some good restaurants you can go for a meal:
1. Thank U Chicken
It is a Korean urban bar/lounge-like establishment where you can enjoy various flavors of authentic finger-licking Korean chicken.
You can have fried chicken wings or chicken half-spicy and half-non-spicy with rice balls as you sip your chilled beer at a reasonable price.
You can host a birthday party for your loved one.
2. Piatto Fresh Kitchen and Bar
This is an Italian and American style brunch/lunch spot with a bar with happy hours.
For starters, you can order Caprese, Calamari fritti, a chicken and penne, salmon risotto, and Margherita pizza with shrimp and mushrooms.
Then ask for a pizza with mushrooms, onions, and jalapeños or ravioli.
It has good sandwiches, personal pizzas, and extensive drink selections. You can have the Scottish Salmon on Turkish Bread and the Personal Pizza with mushrooms, spinach, pineapple, and jalapenos.
For dessert, you can have a slice of their red velvet cake.
3. Kumai Ramen
You can have a serving of Kumai ramen with pork belly and a good broth and toppings. You will enjoy the restaurant's diverse offerings.
You can have kakuni Ramen and takoyaki, ramen noodle with seasoned eggs and rich broth or coconut fried shrimp.
You can try their spicy chicken ramen or garlic tonkatsu ramen with tonkatsu broth as the base. Even kumai stewed beef with rice is a treat for a loved one.
4. Fat Crab
You can taste their snow crab with the fat crab seasoning with potatoes and corn or half dozen oysters, shrimp and corn chowder.
Similarly, you can have crawfish in the Asian Cajun flavoring in mild or chicken wings, which come in different flavors, including Cajun and spicy lemon pepper.
Drown it down with a glass of their wide choice of house wines.
5. Flying Roll
This is a sushi joint. You can have a wide selection of food from edamame to turkey and from spring rolls to sushi and hibachi.
6. Café Raik
If the Mediterranean or Middle Eastern breakfast and brunch, then their fresh and seasoned food is what you need.
You may as well try their Greek Salad with Chicken Tawook, the chicken shwarma, as an appetizer.
Their freshly prepared "skin on" potatoes, which are served hot, are delicious.
Then you can wash it down with their freshly prepared apple juice.
7. Kurt's Bistro
This is a small family own restaurant, which serves modern European and German food.
You have the option of pork, steak, and chicken dishes
You can order the Bavarian Jumbo Pretzel, the Wienerschnitzel with braised red cabbage on the side.
For dessert, you can have triple mousse or the creme brûlée.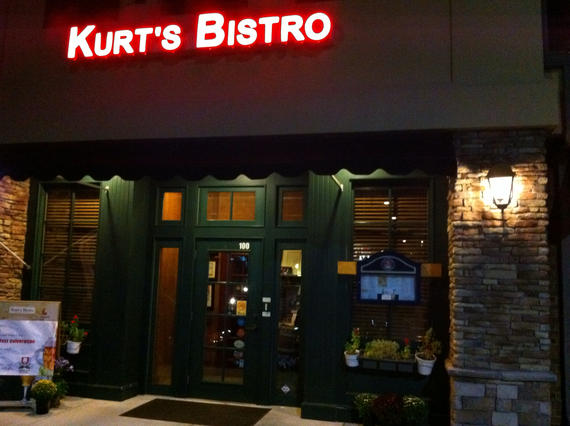 8. Xi'an Gourmet House
This is a Chinese restaurant, which serves traditional Chinese Xi'an style food.
You can have spicy noodle salad with mung bean noodles, soy bean sprouts, and lots of hot pepper and Sichuan peppercorn. If you love lamp, the you are better off ordering lamb pao mo noodle soup. You can have minced pork and pickled cabbage in soup.
You can then have the pumpkin dessert pancake.
9. Uncle Jack's Meat House
This is a steakhouse complete with a bar.
Try their fresh Caesar salad with uncut romaine lettuce, cheese, crispy thin croutons, and Caesar dressing.
The order for bacon, which they will bring as strips of thick bacon hanging on hooks.
This is where you can try bone marrow cooked in herbs and spices with their homemade jam on bruschetta bread.
You can then order their homemade peanut butter and banana jar for dessert.
10. Pop Pot
Their menu comes in different hot pot dishes-Taiwan, Thailand, Korea, Japan broth, etc. Each hotpot comes in a large metal pot fed by a flame underneath that keeps the broth boiling hot. Each dish comes with an option of noodles or rice
You can order the Thai Style Pot, Korean Army, Taiwanese Spicy Hot Pot etc. You will be served it with a side of glass noodles or rice, and veggies and meats. You can also try their stinky tofu and the Taiwanese sausage.
If you are tired of burgers or pizza and occasionally like us at Georgia Roof Pro, roofers in Duluth GA and want  something unusual but classy like authentic Korean, Italian, Middle Eastern or European cuisine then hopefully we gave you some cool advice with this list.